Centre for International Affairs:
Welcome to Centre for International Affairs of The Jikei University
↑ Shot in 2015
What's New
17/10/2018.
There was a page change on the member introduction and it was updated and posted.
22/06/2018.
We updated Application Process of Medical Elective Program.
06/02/2018.
We updated some pages of Medical Elective Program.
08/08/2017.
Posted an article by exchange student of School of Nursing.
10/07/2017.
Medical Elective Programme,Immunisation Form updated and posted.
14/6/2017.
The member introduction page was updated.
We updated overseas partner school introduction to FY 2017.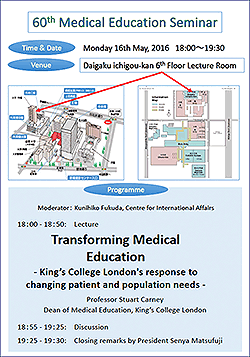 ←PDF Click to view larger image
10/11/2015.

Once you arrive here : Infection Control during Your Clinical Attachment
  Needlestick injury and blood/body fluid contamination
  Flowchart in Case of Accident

Overseas students : Feedback reports from past elective students
International Café
For the purpose of exchanges with overseas medical students and university students who are doing the training at the university, it has been held at the library on Monday lunch time every week. Anyone you can participate freely. Only coffee we will prepare. Please bring your own lunch.